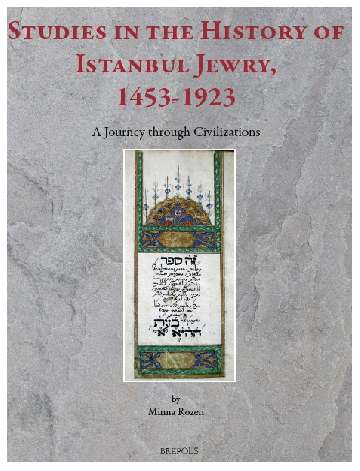 "Studies in the History of Istanbul Jewry, 1453-1923: A Journey Through Civilizations" by Minna Rozen
A cross-cultural and cross-temporal journey in the city of Istanbul and its Jewish community from the Ottoman conquest of Constantinople (1453) to the establishment of the Turkish Republic (1923).
"This book presents ten chapters in the history of the Jewish community of Istanbul from the Ottoman conquest of Constantinople (1453) to the establishment of the Turkish Republic (1923). While delving into specific subjects such as the Romaniot presence in the city, the Karaite society, family life throughout the generations, material culture and its meaning, social life, urban history, economic life, and relations with the Ottoman regime, a common thread binds all of them. Each of the chapters, individually and together, constitutes a journey between different cultures and religions. The history of Istanbul's Jews carries the imprint of Greek Orthodoxy and Catholicism, as well as Islam. It moves in cycles between the Byzantine and Ottoman realms, between Catholic Europe and the Muslim Ottoman Empire, and finally, between the Ottoman Jewish culture and a modern Europe in the throes of secularization. Over 50 images are included to illustrate the multi-cultural aspect of the history presented here. The collection of essays in this volume present high quality scholarship, but equally they provide a fascinating insight to general readers with an interest in Constantinople-Istanbul-Qosta, as well as readers interested in Jewish urban history, the transmission of culture, and multiculturalism."
Prof. Minna Rozen teaches Jewish History and Philosophy of History at the University of Haifa. She specializes in the history of the early modern and modern Mediterranean and has published extensively in this field. Prof. Rozen has initiated and conducted a number of documentation and digitization projects of Jewish archives, cemeteries and synagogues in Turkey, Greece and Bulgaria, and she is currently working on the establishment of an online, searchable database of digital archives of Jewish tombstones from Turkey.
Table of Contents