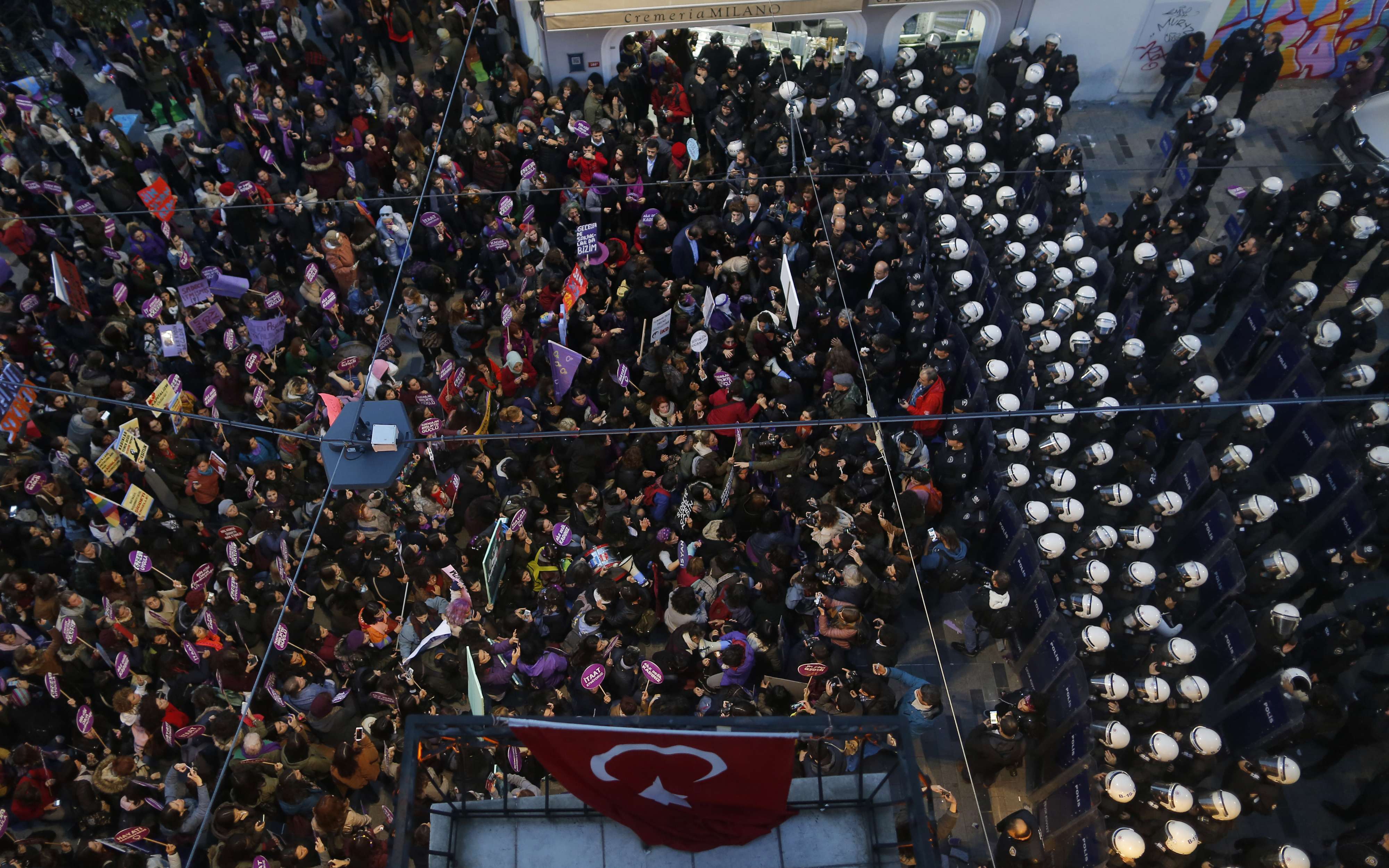 Thousands of Women on Istanbul's Streets Protesting Violence Against Women
Yesterday thousands of women were on the Istiklal Avenue of Istanbul as part of the demonstrations to mark the International Day for the Elimination of Violence Against Women.
"While Turkish authorities released messages condemning violence against women throughout the day, those peacefully marching on Istiklal were met with tear gas and plastic bullets" said Duvar online newspaper.
"The Istanbul November 25 Women's Platform called on women to flock to the iconic Istiklal Avenue on Nov. 25 to commemorate women who lost their lives due to male violence in Turkey. The march began at 7 p.m. at Tunnel Square, at the southern end of Istiklal Avenue. Women were seen carrying placards reading 'We are not abandoning the nights, streets or squares,' 'Long live women solidarity,' 'Women are powerful together,' 'End impunity,' 'Femicide is political,' 'We are not staying silent, are not afraid and are not obedient' and 'We can not tolerate the loss of one more woman.' 'We want to live,' the protesters shouted, echoing the last words of Emine Bulut, who was killed by her husband in front of her daughter in August. 'I don't want to die,' Bulut had said before she died."
"Women carried placards with the names of the killed women and trans woman Hande Kader. Some women wore clown costumes in the memory of Daniela Carrasco, a street artist from Chile who was killed after being arrested. Extinction Rebellion members were also at the march, carrying placards that read, "There is no love in the air, there is CO2 in the air, there is violence in the air." said on bianet.org.
At the end of the march a press statement was released (please see below). Following the press release, the women wanted to march further down the Istiklal Avenue in the direction of Taksim Square, but they faced resistance from the police, who fired tear gas and plastic bullets to break up the demonstration.
"Similar demonstrations also took place in the capital Ankara and the Aegean province of İzmir. In Ankara, hundreds of women gathered in front of the Çankaya Municipality building and then marched towards Sakarya Avenue. In İzmir, women gathered in the neighborhood of Alsancak, where a press statement was released in front of Türkan Saylan Culture Center. The statement said that more than 350 women were killed in 2019 alone" said Duvar online newspaper.
Press statement by women: We expand the fight in every breath (source: bianet)
"Güleda Cankel, Sule Çet, Ecem Balcı, Nadira Kadirova, Emine Bulut, Emine Nuyan, Müzeyyen Boylu, Kübra Aşkın, Ceren Damar, Didem Akay…
"Seeing a woman among social media tags tells about a casualty in any case. It either means that the woman is not alive or could not find justice despite being exposed to horrible violence. We are here for a world where names of women are in the news not because of their deaths but lives, not because of the violence they are subjected to but the dreams they fulfilled!
"We say on November 25, the International Day for the Elimination of Violence Against Women, that we can't tolerate losing one more person!
"Because women are exposed to violence and killed every day. Those who stab, rape women are released right under our eyes. While all these are happening, not how to establish mechanisms to prevent violence but women's right to alimony and whether women can divorce or not are being debated! Not the voice of the killers, but the voice of women is being silenced.
"But our hope is in each other.
"Women strive every day for a non-violent life. Women are killed every day because they wanted to divorce, they said, 'No.' Women are killed every day because the İstanbul Convention and [Law No.] 6284 are not applied.
"Women are killed every day because prosecutors choose to judge not men who use violence but women's ways of life because courts find countless ways to acquit men. Women are subjected to sexual violence every day, where there is a mentality that sees nothing wrong with 15-year-old girls being married.
"Women are subjected to violence and killed every day because of the hate against their gender identity, sexual and romantic orientation, because their bodies and love are being tried to be shaped, because of various forms of transphobia and homophobia.
"And women make it to the news only when they are killed. But we are forced to breathe under violence and pressure, amid uncertainty, being exploited in every way, not knowing how will our tomorrow be.
"In every breath, we expand the fight. We join hands, imagining totally different lives that are less worrisome, freer, more equal, lives where nobody is subjected to violence because of their identity. We know that if we don't do this, nobody will do it for us. And we say altogether:
"We won't lose one more person. Long live women's solidarity!"