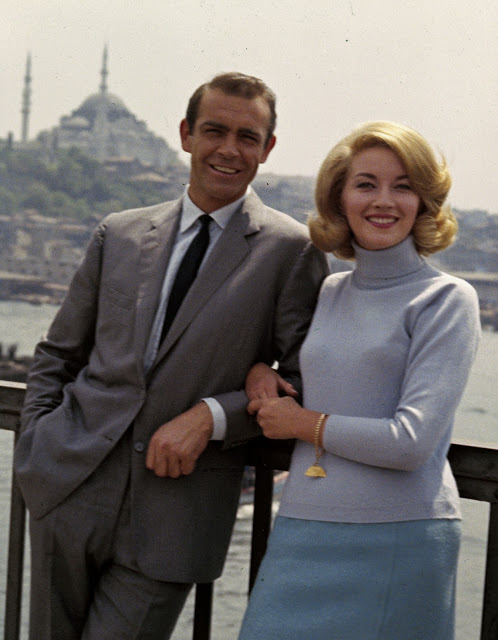 10 GREAT FILMS SET IN ISTANBUL
Kaya Genc's fascinating article on movies set in Istanbul first appeared in British Film Institute website worth to read at any time. He exposures a brief introduction to 10 unforgettable movies with Istanbul background.
By Kaya Genc
Grant Gee's Innocence of Memories hits UK screens this week. Its uncanny depiction of Istanbul stands out among a bunch of great films where the city is a source of intrigue and fascination.
There are two faces of Istanbul in cinema. One is that of a city filled with cries of carpet sellers and shoppers who endlessly wander along its chaotic, labyrinthine streets. Daniel Craig's James Bond rides his motorcycle on the historic Grand Bazaar while a belly-dancer enchants Sean Connery's 007 with her exquisite dance moves. This orientalist Istanbul, defined so strongly by its kinetic qualities is full of colour and vibrancy for western characters who frequent its luxurious quarters: a busy city connected by intercontinental cultures and bridges.
But that is not quite the Istanbul of Orhan Pamuk. A self-confessed renegade to the culture produced by the city's self-orientalising super-rich, Turkey's Nobel laureate has won numberless admirers with his portrayal of a darker Istanbul where relics of the city's past (early republican, Ottoman, Byzantine) are found aplenty, placed on top of each other, in a not exactly mouth-watering mixture. The pleasure-seeking traveller may be alienated by this other Istanbul, a site of ruins that John Ruskin would surely adore, which has now become the Istanbul of British documentary director Grant Gee, whose new film Innocence of Memories depicts the city at its darkest and most intimate. During its entire 90 minutes there is not a single frame in Gee's film that shows Istanbul exposed to sun. This is an Istanbul through a glass darkly: the Istanbul of Pamuk's darkest novel, The Black Book, with elements from his latest, A Strangeness in My Mind.
Innocence of Memories merges texts from Pamuk's penultimate novel, The Museum of Innocence, with a chilling new narrative penned by the author. We hear them as Gee's wandering camera explores the topography of the city; meanwhile Pamuk's narrative renders the story of The Museum of Innocence through the perspective of Ayla, a secondary figure in the novel. Through her words we witness protagonist Kemal's obsession for his lover Füsun. As the camera moves along desolate streets, dark alleyways and ruin-like avenues of the city, the voices of Kemal, Ayla and Pamuk converge. It is an unsettling experience to see the camera climb the narrow road leading to a wine-red building in Istanbul's Çukurcuma neighbourhood that has once housed the family of Füsun: this is the Museum of Innocence whose objects tell the story of Kemal's love for Füsun.
As he acknowledges in the film, Pamuk has been alienated from his social class because of his love for literature; he has sided with the downtrodden of Turkey – with street vendors, taxi drivers and waste pickers whose Istanbul this film masterfully depicts. It is their perspective we are offered in Innocence of Memories. The camera moves ghost-like through the neighbourhoods of Beyoğlu, Fatih and Kasımpaşa, climbing overpasses and travelling down hills, representing the gaze of the city's melancholic and underprivileged flaneurs. From their perspective, Istanbul seems desolate, lacking of warmth, and yet full of ruinous beauty. Innocence of Memories show how one remembers things by objects and how different corners of the city become museums of one's past. Cities are indexes where all external things point to the most internal of things: our memories.
JOURNEY INTO FEAR (1943)
Director: Norman Foster
For those desiring to see Orson Welles dressed as a Turkish secret police chief wandering the streets of Istanbul, there is but one film that offers that surreal image. Journey into Fear, the nightmarish tale of a US Navy engineer chased by Nazi agents in Istanbul (and then in Batumi) has been credited to Norman Foster but it feels very much like a Welles film – every frame carries his touch and the general belief is that he co-directed with Foster.
The film opens in what looks like Istanbul's Pera neighbourhood during the Second World War: the Nazi assassin Banat is preparing to kill Howard Graham (played by Joseph Cotten) who has just entered an Istanbul hotel called the Adler Palace, alongside his wife. An arms representative he meets at the lobby grabs Graham away from his wife to a nightclub nearby. There, in the smoke-filled atmosphere of the dimmed nightclub Graham meets a dancer and a magician. After the magician is assassinated by Banat, Graham smells a rat. The head of Turkish secret police, Colonel Haki, takes matters into his own hands as the film's dark, Kafkaesque and fun atmosphere transforms Istanbul into a scary and extremely unpredictable place.
FROM RUSSİA WITH LOVE (1963)
Director Terence Young
For directors and agents of British intelligence, Istanbul is a vital city, as the second instalment of the James Bond film series so clearly shows. Filmed on location in Turkey, From Russia with Love's Istanbul scenes begin at Atatürk Airport (known at the time as Yeşilköy Airport) where Sean Connery, the original Bond, arrives smartly dressed and full of self-confidence. A beautiful clerk, Tatiana (Daniela Bianchi), who works in the Soviet embassy, and who ostensibly wants to defect, occupies his mind (in fact she is part of a sinister Soviet plan to kill Bond).
We watch Bond and Tatiana as they make love in a lavish Istanbul hotel room and wander the streets of the Grand Bazaar and the Spice Market. But it is in the Basilica Cistern, built beneath the city in the sixth century by Byzantine Emperor Justinian, that the film's most memorable scenes take place. In From Russia with Love's fantasy world, the cistern is located right under the Soviet consulate, which turns this fascinating Istanbul sight into an ideal location for snooping on the plans of the evil empire.
L'IMMORTELLE (1963)
Director Alain Robbe-Grillet
Istanbul has never been depicted in this French new wave fashion before or since Alain Robbe-Grillet's L'Immortelle, which feels a bit like a distant cousin of Alain Resnais's 1961 film Last Year at Marienbad (whose script was penned by Robbe-Grillet). Here the tale of an unnamed man's love for an unnamed woman (told non-chronologically, of course) takes place inside Istanbul's mosques, bazaars and lavish seaside neighbourhoods.
Turkish-speaking locals (whose dialogue is not translated throughout the film) add an extra layer of mystery to the film's already labyrinthine narrative. Like Last Year at Marienbad's protagonists, A, X and M, here L, N and M struggle to comprehend the story they are in: what is the nature of the conspiracy ring that kidnaps women and uses them as prostitutes? What has happened to the woman that the man has met at the beginning of the film and why do all Turks pretend not to have ever seen her? The car crash at the end is reminiscent of Füsun's death in Orhan Pamuk's The Museum of Innocence. Party scenes in Istanbul yalis (seaside mansions), where the city's bold and beautiful meet and stare at one another in the French new wave manner, are particularly impressive.
HAMAM: THE TURKISH BATH (1997)
Director Ferzan Özpetek
It is surprising to see how Ferzan Özpetek's debut film, which will have its 20th anniversary next year, has anticipated Istanbul's present-time city preservation struggles. Hamam's Italian protagonists, Francesco and Marta, lead stylish lives in Rome where they run a design company. The couple's marriage is melting down – something that becomes even more obvious as news of the death of Francesco's aunt Anita in Istanbul reaches their Rome apartment. Aunt Anita has left Francesco a traditional Turkish bath in an old Istanbul neighbourhood. Aynalı Sultan Hamamı has been long out of use and is connected to the house of a family who used to run the place.
After spending his first days in Istanbul at the city's legendary Pera Palace, where he continuously hates the city, Francesco changes his mind, starts living with the family and adapts to the Turkish way of life. His refusal to sell the hamam building to the construction company that plans to raze the whole neighbourhood turns Francesco into a local hero of sorts. Reading letters penned long ago by his aunt, Francesco discovers how Istanbul is a city that transforms people. He discovers, too, his homosexuality as well as his long-held need for leading a different kind of life. Filling him with optimism, these discoveries soon start upsetting Istanbul people in powerful positions…
JOURNEY TO THE SUN (1999)
Director Yeşim Ustaoğlu
Yeşim Ustaoğlu's political drama shares a character with Innocence of Memories: the Turkish Armenian photographer Ara Güler. Depicting the Turkey of the 1990s – a dark time when human rights violations have peaked – Journey to the Sun's Istanbul-based protagonist Mehmet loses everything in life after being mistaken for a Kurdish militant. Ustaoğlu's Istanbul is a dark place; as he looks for water leaks beneath the city to make a living, Mehmet also discovers the underlying tensions of Turkey's culture.
UZAK (2002)
Director Nuri Bilge Ceylan
This is Istanbul as seen by a master photographer and Turkey's greatest living filmmaker. Uzak is not only the best film of Nuri Bilge Ceylan's 'provincial trilogy' – which begins with Small Town (1997) and continues with Clouds of May (1999) – but arguably the most aesthetically satisfying film that depicts Istanbul under snow.
Egotism and selfishness reigns in Uzak's Istanbul. Ceylan's exquisite psychological analyses of his main characters, a wealthy photographer and his cousin from a small town which he looks down upon, find their representations in the ruthlessly realistic depiction of the city's picturesque corners. Under the beautifully falling snow, the city turns before our eyes into what literary theorists call an 'objective correlative' of its characters – a physical extension of their psychologies. Even the city's bustling Istiklal Avenue becomes a solitary place for the provincial and lonely character Yusuf (Emin Toprak, who died in a traffic accident shortly after making the film).
2 GIRLS (2005)
Director Kutluğ Ataman
"Not since Salinger's Catcher in the Rye has a writer animated adolescent anguish so vividly and compellingly" was the verdict of The Independent when Perihan Mağden's source novel for this adaptation was published in its English translation. 2 Girls' Istanbul is as postmodern as it gets: two teenage girls, the protagonists of the film, spend their time in non-touristic places like the upper-class neighbourhood Etiler and inside the Akmerkez shopping mall. Rather than the Basilica Cistern they go to the swimming pool of Istanbul's Bilgi University, in Taksim, when they desire to be close to water.
Ataman and Mağden's combined perspective reveals Istanbul and Turkish society in all its inequality and energy. The film's soundtrack by Replikas also reflects the rebellious spirit of these two girls who struggle to get what they want in a male-dominated society.
CROSSING THE BRIDGE: THE SOUND OF ISTANBUL (2005)
Director Fatih Akın
Fatih Akın's film is unsurpassed in representing the excitement of Istanbul's music scene which, for many, define this city more than anything else. It follows German musician Alexander Hacke, the bassist from the band Einstürzende Neubauten, as he travels around Istanbul with his microphone and recording studio in an effort to capture the city's multilayered sounds. Hacke stays at the Grand Hotel De Londres, the locale of some of the best scenes in Akın's Golden Bear winning Head-on (2004). Hecke's collaborators here include Aynur Doğan, who sings a beautiful love song in Kurdish inside a historic hamam. There are visits to Romany musicians; Istanbul's most famous rapper Ceza makes an appearance as do the experimental rock band Replikas.
This is a kinetically edited portrait of a city that has desired to be European for the past century and a half, and is only recently rediscovering its Middle Eastern roots. As Akın's camera moves between both sides of the Bosphorus, we meet figures like the Turkish classical music performer Müzeyyen Senar and one of the kings of Turkish arabesque, Orhan Gencebay. Most of the film takes place on Istanbul's streets and the film seems like a love letter to a city that has inspired such great music in such numerous genres.
TINKER TAILOR SOLDIER SPY (2011)
Director Tomas Alfredson
John le Carré executive produced this adaptation of his 1974 novel Tinker Tailor Soldier Spy, which offers one of the uncanniest depictions of Istanbul on film. The city's Karaköy neighbourhood, nowadays a favourite among tourists and hipsters with its trendy cafés and restaurants, turns into the stage of a duel between Soviet and British spies during the Cold War 1970s.
The relationship between Irina (Svetlana Khodchenkova) and the British spy Ricki Tarr (Tom Hardy) that begins in Istanbul plays a crucial role in George Smiley's (Gary Oldman) struggle to find the Soviet mole in the MI5. From Istiklal Avenue to Taksim nightclubs, dark hotel rooms and bureaucratic interiors of the import-export authority, Tinker Tailor Soldier Spy's retro Istanbul is a pleasure to watch, even as it begins to be covered by brutally assassinated bodies.
MUSTANG (2015)
Director Deniz Gamze Ergüven
Istanbul appears only in the final section of this year's Academy Award nominee for best foreign language film, which many have compared to Sofia Coppola's The Virgin Suicides (1999). Living in the small Black Sea village of Inebolu, the orphaned sisters of Mustang are oppressed by their uncle who locks them up in the house before sexually abusing them.
Throughout the film, there are references to Istanbul: first, as the destination of their teacher, who leaves her class in Inebolu for the city in the film's first scene. The word 'Istanbul' appears on windows of bus offices in Inebolu and reflects the city's role as an escape route. The girls eventually manage to take the bus to Istanbul and fall asleep following their struggle to escape. When they wake up, in the most brilliant scene of Mustang, they find themselves on the Bosphorus Bridge in the early hours of the morning. They watch the sun as it moves up, illuminating the city as well as their future hopes in it. As the Mustang girls wander the streets of Cihangir (a few hundred metres away from Pamuk's Museum of Innocence) the girls' hardships to reach it seems all the more worthwhile.
Source: Kaya Genc, 10 GREAT FILMS SET IN ISTANBUL: https://www.bfi.org.uk/news-opinion/news-bfi/lists/10-great-films-set-istanbul